When To Check Your Transmission Fluid

There are a few routine maintenance services you need to stay on top of in order to keep your car healthy and out on the streets of Atlantic City and Egg Harbor, New Jersey. It's always important to get your oil and filter changes, tire rotations, and brake inspections, but there are a few things you can do in between your visits to our service center to make sure your car stays in premium condition.
Here at Boardwalk Honda we want our drivers to be as informed as possible about their vehicles, which is why we've created this handy guide on when to check your transmission fluid, so your vehicle can run efficiently for years to come.
---
Why Do I Need to Check My Transmission Fluid?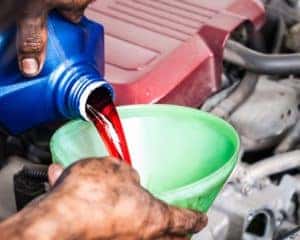 Transmission fluid is crucial when it comes to keeping all the moving parts in your transmission running smoothly. It acts like a lubricant, and if you're running low it will cause your gears to grind and break.
Checking your transmission fluid is important because it prevents you from causing damages under your hood.
How Often Should I Check My Transmission Fluid?
You should check your transmission fluid about once or twice a year, less often than you check your engine oil, but still a moderate amount.
You're going to want to get your transmission fluid changed every 30,000-50,000 miles. If you drive through harsher conditions you'll want to get it changed about every 15,000 miles.
---
How Can I Check My Transmission Fluid?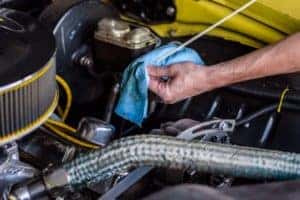 It doesn't take long to quickly check your transmission fluid. Simply follow these steps next time you need to:
You'll want to make sure your engine is warm when you're checking your transmission fluid, so you're going to want to leave your vehicle on and in Park.
Next, remove the dipstick and check the oil color by rubbing it between your fingers. If it's pinkish and clear, you're good. If your oil is dirty and brown, it's going to be time to get it changed.
Finally, wipe the dipstick clean, insert it, and pull it out again. Double check that it reaches the "Full" line. If it doesn't, it's time for a fill-up.
---
Schedule Your Next Service Appointment!
The highly-trained technicians in our service center would be happy to help you with any and all of your vehicle maintenance needs. Whether that's minor jobs like fluid changes, or major jobs like engine and transmission repairs.
If you're looking to schedule your next appointment, you can do that easily right here on our website. Simply fill out your contact info, your vehicle's make, year, and model, and a brief explanation of what you need done. We'll reach out to you to confirm your availability.
If you'd prefer to speak with someone, give us a call or stop by our service center. We'd be happy to answer any questions you might have.
Here at Boardwalk Honda we're dedicated to serving the drivers of Atlantic City and Egg Harbor, New Jersey. We can't wait to hear from you!