Expert Service in New Jersey
If you're driving the roads near Atlantic City or Egg Harbor, NJ, it's important that the tires on your vehicle are up to the task. At Boardwalk Honda, our tire center is here to ensure they are.
Our trained technicians have been installing, repairing, and balancing tires for years. They will also use their expertise to find the right tires for your Honda when you need a tire replacement. If you're searching for a "tire center near me", we have you covered.
Have a question about your tires? Check out our guide below!
---
Common Tire Questions
Our Honda Tire Center
Whether you're driving through the city in a Civic, tackling country roads in an Accord, or transporting the family in a Pilot, you're always counting on tires to get you to your destination. Without properly working tires, you probably won't get too far!
It's important your Honda model is equipped with the right ones. Honda engineers select the tires for your model based off several factors, so going with the least expensive available won't always get the job done. When you work with our tire center, you'll find we carry many of the tires needed for Honda models, so there's no need to wait for them to be delivered.
Even if you don't drive a Honda, we stock a wide range of brands and tire types for other makes and models, too.
---
Services at the Tire Center near Me
Our service technicians offer complete service and tire repair. Here are some of the important tire services we offer.
Alignments: Due to the nature of driving and the surfaces we travel, wheels become misaligned over time. If you're feeling your car pulling to one side of the road or a quick visual inspection reveals uneven tread on the tires, an alignment may be the remedy your car needs.
Tire rotations: A rotation keeps all four tires healthy. Since every wheel on the car has its own functionality, every tire has different wear and tear. To ensure wear and tear is even on all four tires, we'll rotate them as needed.
Pressure checks: For better fuel economy numbers and a more even ride, make sure tire pressure is correct in all four tires. This information can be found in the door jamb on the driver's side or in your owner's manual. If you suspect a nail or other debris might be causing air to leak out of the tire, let our technicians take a look, correct the problem, and fill them to proper levels.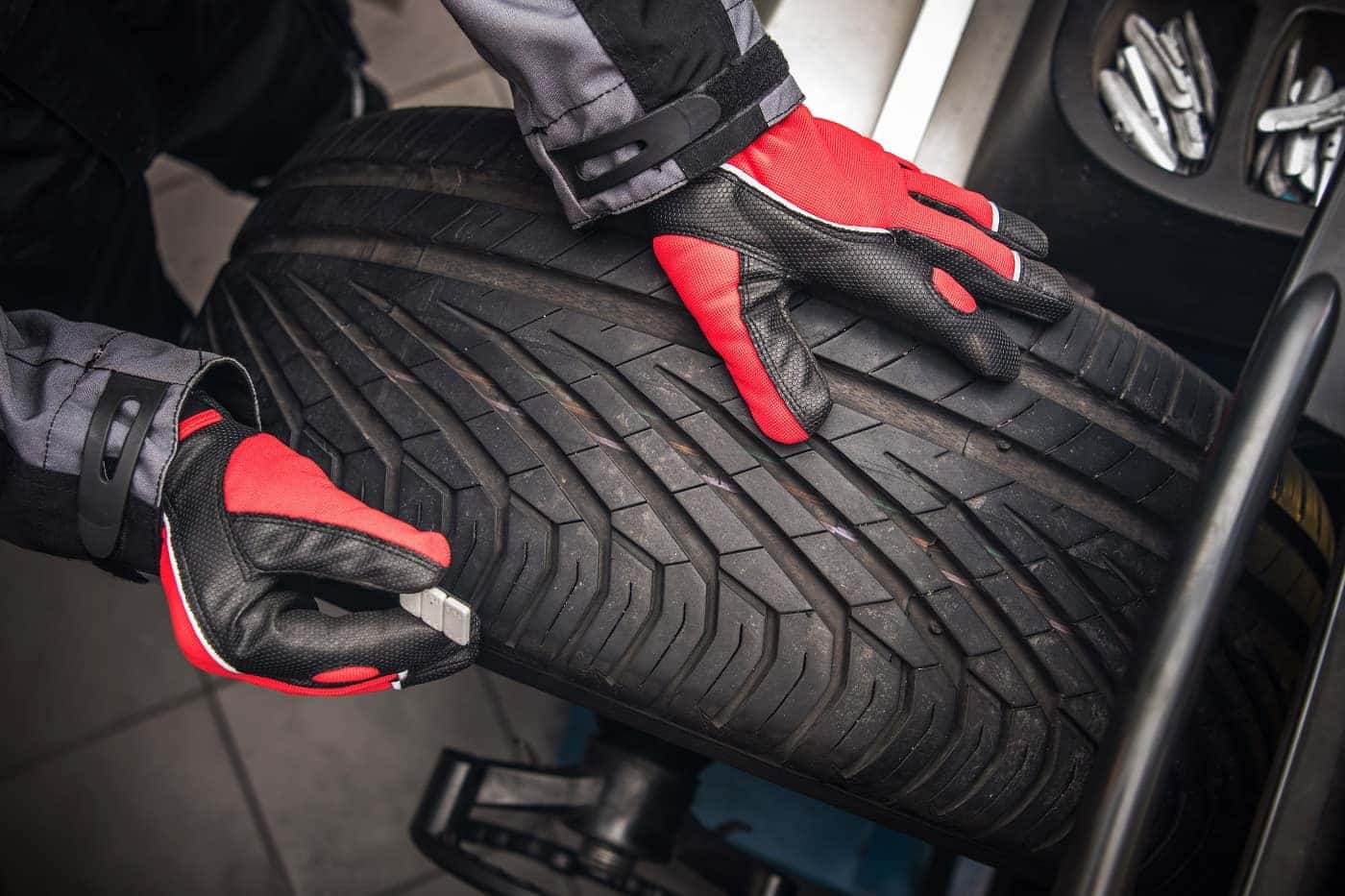 How to Check Tire Tread Depth
The best bet for solid and secure tire tread depth is 4/32 inches or deeper. If your tire tread reads at 3/32 inches, those tires are on their way out. They'll still work, but it's best to schedule maintenance to replace them as soon as possible.
If your tire tread has a depth of 2/32 inches or less, then you will want to immediately get new tires. How do you know how much tire tread you have left? Just grab a penny and you are ready to check your tire tread depth. By placing a penny head down into the tire tread, you can see if it is time to schedule a tire replacement.
Luckily, you won't have to go far if you're wondering where you can find tires. Our tire center is close by and our service professionals can install new tires on your vehicle with plenty of tread that will give you controlled, confident performance!
How to Check Tire Pressure
Another simple and regular check you can do to gauge the performance of your tires is see how much air pressure they have. Learn to check tire pressure with these easy steps:
Remove the valve cap.
Grab your tire pressure gauge and push down on the valve stem.
Check the number on the gauge and write it down
Check your owner's manual for the desired PSI and compare with your numbers.
If the number is below the desired PSI, then you'll want to fill your tires with air.
With properly inflated tires, you can ensure you are getting the best performance possible out of them. This will help them wear at a more gradual rate, which helps your tires last longer. It also means you are making sure you are getting the most efficient performance possible.
If you do notice any tires regularly drop below the recommended PSI, you may have a leak. Not to worry, though, since our professionals at our tire repair shop can fix that for you!
How Long Do Tires Last?
A tire can be driven anywhere between five to 10 years. Precisely how long a tire will last depends on the quality of the individual tire, climate, and road conditions. There is a way to help get the most out of your tires–regularly having them rotated.
You should rotate your tires every 5,000 to 6,000 miles. Each time you stop by for an oil change, our technicians can quickly get the tires rotated for you.
By getting them rotated, you are helping your tires last longer. This will help them wear at a more even rate, which means the tread of each individual tire will give you the traction you need while driving for more miles.
How to Read Tire Size
The tire sidewall has a 12-letter/number combination, with each character representing something different. When you need to shop for tires–which you can order from our tire center–you will need to know the exact size of your tires. This way, you get the appropriate tires to fit the specific wheels of your vehicle.
Knowing your tire size also helps you make sure you are staying safe while driving. Included in your tire size is the tire's load index and speed rating. By checking out these figures, you will be able to determine what maximum speed and weight your tires can safely handle.
Find a Tire Center near Me Today
Whether you're searching for a brand-new set of tires, need an alignment, or just want them filled to proper levels, our team is happy to help Atlantic City and Egg Harbor drivers.
Our service technicians look forward to assisting you. If you need to schedule a tire repair near me, contact us at Boardwalk Honda and make an appointment!