Brake Repair Near Me

Brake Repair near Me
Schedule Your Brake Repair
Our Service Center
If you live around Atlantic City, Egg Harbor, or Galloway, NJ, and you're looking for a brake repair near you, you've found it. Welcome to the Boardwalk Honda brake service department.
Our experts have been repairing, servicing, and replacing brakes for years. If you think there could be something wrong with your car's brakes, please don't hesitate to schedule an appointment today.
---
Our Brake Repair Shop
Now that we've covered the problem, let's focus on the solution. Here at Boardwalk Honda, we have a full team of service wizards prepared to fix anything going on with your Honda's brakes.
They're well-versed in several different types of brakes: disc brakes, drum brakes, emergency brakes, anti-lock brakes, and more. It's like Kurtis Blow said back in 1980: "These…are…the…brakes!"
However, they're also able to take care of a wide variety of other automotive issues, from engines, transmissions, and tires to windows, paint jobs, and beyond. These are your go-to guys and gals for it all!
Additionally, they're well-known for doing their job with a courteous, respectful, and efficient attitude. In other words, you'll enjoy the highest level of professionalism when you come to our dealership.
Advanced Technology Within Our Facility
While our certified technicians are the stars of the show when it comes to repairing your brakes, they also get a helpful hand from the advanced technology found within our on-site facility.
For procedures such as repairing your brakes, we have tools that allow us to provide efficient, effective care. Some of these tools are designed for certain models, too. So, whether you have a large, commercial truck due for a brake pad swap or a compact, commuter car that requires a set of rotors, we can quickly begin to deliver the quality care it—and you—deserve.
Brake Problems: Know the Signs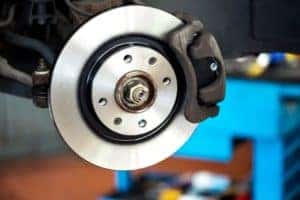 How do you know when it's time to start searching for a "brake repair near me"? Here's an overview of some of the major warning signs. Of course, if you're ever in doubt, please let an expert take a look.
Smell: As you lean on the brakes, you may detect a subtle odor if the brakes are worn. The smell will resemble something close to burning since the more friction placed on the brakes increases the temperature of the metal. Any obvious odor while braking is a clear sign your brakes are worn.
Noise: Grinding, squealing, screeching, or any odd sound you notice while braking indicates a problem. Ideally, your brakes should be fluid, quiet, and provide predictable stopping power. Even if the stopping power remains strong, any odd clanks or screeches are a sign your brakes are wearing.
Vibration: If you sense vibrating either in the steering wheel or the pedal, it could be a sign of worn brakes, but it can also be a sign that certain parts under the hood are coming loose. Either way, having a certified technician take a look will ensure your long-term safety.
Function: If you need to press the brake down farther than usual to get it to work, there's something wrong. Brakes should always be responsive, quick to react, and reassuring. Over time, if you find you're pressing the brake pedal down farther and farther until it reaches the floor before working, it signifies wear in your brakes that should be addressed.
Brake Warning Light: Of course, you can always rely on the trusty warning light! Most modern vehicles have a dashboard light indicator that gives you a heads up if your brakes are worn or are beginning to wear down. While you may be able to use your vehicle with the brake warning light on, your first goal should be to drive it over to the shop so an expert can take a look.
How Long Do Brakes Last?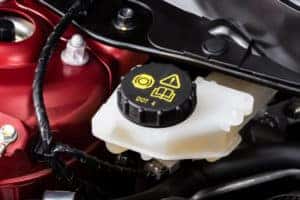 The mileage will vary depending on a few factors we'll discuss shortly, yet most brakes can last around 40,000 miles, with some estimates going all the way up to 70,000 or 80,000 miles. So, what might speed up the wear and tear process? A lot of it has to do with what you're requiring of your brakes each day.
For example, if you drive a fast, rambunctious sportscar, your brakes may fade more quickly due to hard stops from high speeds. The process of wear and tear is similar in large trucks. If your truck is regularly tasked with towing and hauling loads in excess of 10,000 pounds, the amount of friction placed on the brakes during deceleration will be tremendous.
One of the factors people often overlook is the type of driving you do with your day-to-day sedan or SUV. While long rural roads or lengthy highway stretches may not impact the brakes much, spending hours each day in bumper-to-bumper traffic may cause some strain on your brake pads and rotors.
The easiest way to ensure your brakes are responsive and well-maintained is with annual inspections at our service facility!
Upping the Value of Your Visit
Because we rotate our discounts and coupons over time, it's tough to tell the exact procedure you can save on at any moment. Still, checking out our list of deals before coming by for a brake repair is always a good idea. Timed correctly, you may receive boosted value for your brake pads or rotors. We're always trying to do our best to make service shop visits convenient and enjoyable!
Faulty Brakes? Schedule a Service Appointment at Boardwalk Honda!
Best of all, it's extremely easy to get in touch with our team if you need a brake repair for your Honda or any other make. So, if you're looking for "brake repair near me", simply call us on the phone, stop by the service department in person, or set up an appointment on our website! We're only a short drive away from Galloway, Egg Harbor, and Atlantic City, and we're here to serve you. Please get in touch with us soon.
Dealer Info
Mon - Fri

9:00 AM - 8:00 PM




Sat

9:00 AM - 6:00 PM




Sun

Closed
Mon - Fri

7:00 AM - 6:00 PM




Sat

7:00 AM - 6:00 PM




Sun

Closed
Mon - Sat

7:00 AM - 6:00 PM




Sun

Closed
Find Us